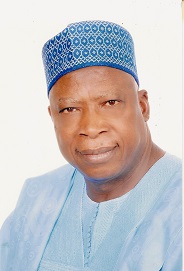 His Excellency, Alhaji Abdullahi Adamu was born on July 23, 1946.
His early education began in Senior Primary School Keffi before proceeding to Government Secondary School, Makurdi from 1960 to 1962. He then proceeded to Government Technical College, Bukuru from 1962 to 1965 and Kaduna Polytechnic from 1965 to 1968. He returned to Kaduna Polytechnic for a Higher National Diploma in June 1971.
In 1992, he obtained an LL.B (Hons) from the University of Jos and was called to the Bar as a solicitor and Advocate of Supreme Court of Nigeria in December 1993.
Adamu began his political career in 1977, and was elected to the Constituent Assembly, which drafted the constitution for Nigeria's short-lived Second Republic. He was a pioneer member of the National Party of Nigeria (NPN) and was the first Secretary-General of the NPN in Plateau State from December 1978, and chairman of the NPN in Plateau State from 1982 to 1983.
He was appointed to the National Constitutional Conference by General Sani Abacha's administration in 1994. In March 1995, Adamu was appointed a Minister of State of Works and Housing ministry, holding this position until November 1997. When the ban on political activities was lifted in 1997, he joined the United Nigeria Congress Party (UNCP). In 1998, Adamu became a founding member of People's Democratic Party (PDP).
In the 1999 elections, Abdullahi Adamu ran successfully for the position of Governor of Nasarawa State under the platform of the People's Democratic Party. He was re-elected in April 2003 for a second term in office.
At the formation of the Nigeria Governors' Forum in 1999, his colleagues unanimously elected him as the pioneer Chairman and served from 1999 to 2004.
After the end of his two-term as Governor, Adamu became Secretary, Board of Trustees (BOT) of the PDP. In the 2011, he was elected to the Senate to represent Nasarawa West district. He was again reelected in 2015 under the platform of the All Progressive Congress (APC).