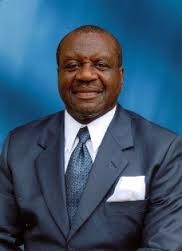 Arc. (Obong) Victor Bassey Attah was born on November 20, 1938.
He completed post-primary education in 1956. He earned a degree from Leeds College of Art and a postgraduate diploma in Building Science from the University of Liverpool in 1965, and a Masters degree in Advanced Architectural Design and Planning. He also attended the Kennedy School of Government at Harvard University.
After completing his education, Victor Attah worked as an architect in the Caribbean, New York and Nigeria. He served as the National President of the Nigerian Institute of Architects.
Victor Attah was elected governor of Akwa Ibom State in 1999 on the platform of the Peoples Democratic Party and was re-elected in 2003. He was elected Chairman of the Nigeria Governors' Forum in 2004 and served till 2006, when he stepped aside to pursue his presidential aspiration.