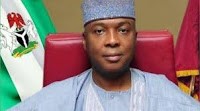 Dr. Abubakar Bukola Saraki was born on December 19, 1962.
He attended King's College, Lagos, from 1973 to 1978, and Cheltenham College, Cheltenham, London from 1979 to 1981 for his High School Certificate. He then proceeded to the London Hospital Medical College of the University of London from 1982 to 1987, when he obtained his M.B.B.S (London).
He worked as a Medical Officer at Rush Green Hospital, Essex, from 1988 to 1989. He was a Director of Societe Generale Bank (Nig) Ltd from 1990 to 2000.
In 2000, President Olusegun Obasanjo appointed Saraki as Special Assistant to the President on Budget. During his tenure as Special Assistant to the President on Budget, Saraki initiated the Fiscal Responsibility Bill. Saraki also served on the Economic Policy Coordination Committee, where he was responsible for the formulation and implementation of several key economic policies for Nigeria.
In 2003, he ran for the office of the Executive Governor of Kwara State on the platform of the People's Democratic Party (PDP) and won. He was re-elected for a second term in office in the 2007 elections. As Governor of Kwara State, he led reforms in Agriculture, Health, Education, Finance and Environment Policy.
One of his major achievements was partnering with displaced white farmers from Zimbabwe and inviting them to Kwara State and offering them an opportunity to farm. This led to the establishment of Shonga Farms programme, which is now being replicated across Nigerian States.
Dr Saraki served as Chairman of the Nigeria Governors Forum from 2007- 2011. Under Saraki's Chairmanship, the Forum was reformed, with a fully functional Secretariat serving as a technical and administrative division that was entirely focused on good governance and service delivery.
After his two-term tenure as Governor of Kwara State, in the 2011 elections, Bukola Saraki ran for the office of Senator of the Federal Republic of Nigeria representing the Kwara Central Senatorial District and won. He was appointed as the Chairman, Senate Committee on Environment and Ecology and is also a member of the Senate committee on capital Markets and Finance.
Following disagreements in his party, the Peoples Democratic Party, he and some of his colleagues defected to the All Progressives Congress (APC) from where he again contested for the Senatorial seat in Kwara Central Senatorial District and won. After his re-election in the 2015 general elections, Saraki was on 9 June 2015 elected unopposed as President of the Senate by an across the party alliance comprising PDP and APC Senators.