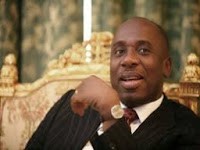 Rotimi Chibuike Amaechi, was born May 27, 1965.
Rotimi Chibuike Amaechi attended St. Theresa's Primary School, Ubima, Rivers State. He then proceeded to Okolobiri School where he had his secondary education. Amaechi proceeded to the University of Port Harcourt, where he obtained both his Bachelors and Masters Degrees in English Language.
In the year 1999, Rotimi Amaechi was elected a Legislator under the platform of the Peoples Democratic Party (PDP), to represent Ikwerre Constituency in the Rivers State House of Assembly, where he was also elected the Speaker, a position he held till 2007.
He became the Governor of Rivers State in 2007 after a long battle in the court. In April 2011, he was re-elected governor for a second term.
In 2011, he succeeded Dr. Abubakar Bukola Saraki, as Chairman of the Nigeria Governors' Forum and was re-elected in 2013. A disagreement with his erstwhile party, the PDP culminated in his defection to the All Progressives Party (APC) where he was to become the Director General of General Muhammadu Buhari's successful presidential campaign.
Following General Buhari's victory in the 2015 General elections, Rotimi Chibuike Amaechi was appointed the Minister of Transportation by the President.