Alhaji Yahaya Bello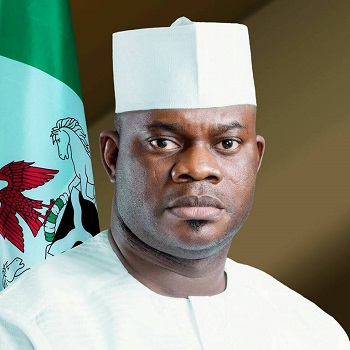 Website: www.kogistate.gov.ng
Office Date: January 27, 2016
Address: Government House, Lokoja
Birth Date: June 18, 1975
Birth State: Kogi State
Political Party: All Progressives Congress
State: Kogi State
Yahaya Bello was born on June 18, 1975 in Agassa, Okene LGA. He had his primary education at the LGEA Primary School, Agassa, and was made the class prefect from class two all the way to class six when he was appointed head boy.
He enrolled at Agassa Community Secondary School in 1989. Changing school five times, he finally settled in at Government Secondary School, Suleja, Niger state, and sat for his Senior Secondary School Certificate Examination (SSCE) in 1994 at the school.
He got a Bachelor's degree in Accounting and a Master's degree in Business Administration from Ahmadu Bello University (ABU) in 1999 and 2004 respectively. He became a Chartered Fellow of the Association of National Accountants of Nigeria (ANAN) at Jos in 2004.
He spent his NYSC year at the Revenue Mobilization Allocation and Fiscal Commission (RMAFC) in 2002 and was retained. He was subsequently appointed as Revenue Officer and then promoted to Accountant within a short period. He later attained the post of Assistant Chief Accountant before leaving the commission.
He is the managing director of FairPlus International Limited and the chairman of Kogi Youth Arise Forum.
On December 6, 2015, Yahaya Bello was declared winner of the Kogi State gubernatorial elections, after replacing former APC candidate, Abubakar Audu, who died on November, 22, when the election was declared inconclusive.
He was sworn in on January 27, 2016 as the governor of Kogi state.