Ahmadu Umaru Fintiri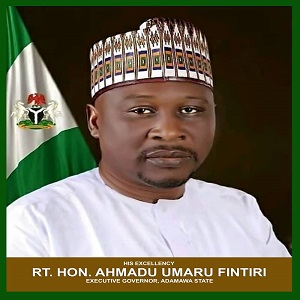 Website: www.adamawastate.gov.ng
Office Date: May 2019
Address: Government House, Yola
Birth Date: 27th October 1967
Birth State: Adamawa State
Political Party: Peoples Democratic Party (PDP)
State: Adamawa State
Ahmadu Umaru Fintiri is the current governor of Adamawa State. He was a member of the Adamawa State House of Assembly, and was appointed the Speaker of the House. He became the acting Governor of Adamawa State Nigeria, following the impeachment of admiral Murtala Nyako in July 2014, handing later to Bala James Ngilari after serving for three months.
Fintiri won the governorship election of Adamawa State that took place on the 9th of March 2019, however, the election was declared inconclusive because the number of cancelled votes was more than the margin between the winner and his close opponent. Umaru Fintiri was declared winner of the election in the early hours of Friday after having secured 376,552 votes to defeat incumbent Governor Jibrilla Bindow of the All Progressives Congress (APC) who polled 336,386 votes.
In the March 9, 2019 Adamawa State Governorship Election and upon the completion of March 28, 2019 Adamawa State supplementary election, Ahmad was declared winner of the Election having polled 376,552 votes defeating the Incumbent governor Bindo Jibrilla of the All Progressive Congress who polled 336,386 votes.